Disclosure of Material Connection: I received one or more of the products or services mentioned above for free in the hope that I would mention it on my blog. Regardless, I only recommend products or services I use personally and believe will be good for my readers. I am disclosing this in accordance with the Federal Trade Commission's 16 CFR, Part 255: "Guides Concerning the Use of Endorsements and Testimonials in Advertising."
Study after study shows that kids need proper fitting backpacks to avoid muscular back pain, as well as lower back pain.  If you head to your local store, you will see that most manufacturers ignore these findings and continue to make ill fitting backpacks that are too large for smaller students.  Finally there is a manufacturer, Sydney Paige, that thinks about our children and puts their needs first.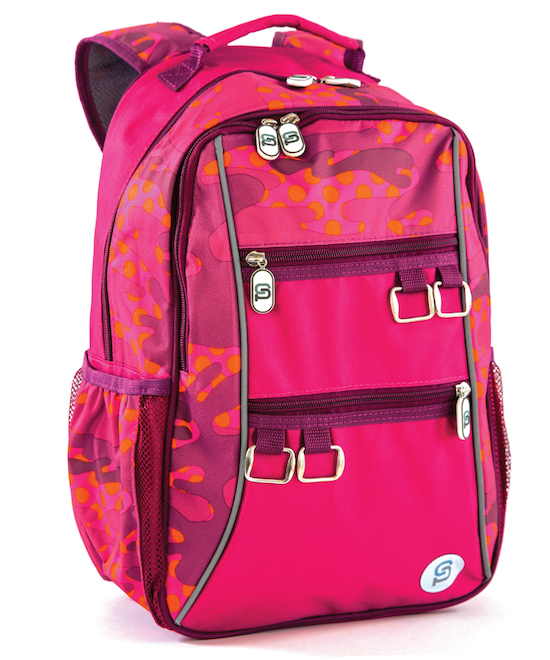 About Sydney Paige
Sydney Paige makes the BEST Backpack for Your Student.  As summer comes to a close, parents are hunting for school supplies, backpacks and new outfits for the start of the school year.  This year, parents can not only get a great looking backpack for their child but one for a child in need as well.  Sydney Paige will donate one backpack to a child in need for each backpack purchased.  Parents can even pick the charity the donated pack will go to.
Sydney Paige backpacks are eco-friendly and offer fun geometric designs in bold colors. Backpacks are equipped with multiple compartments.  The backpacks are spacious, without being excessively large.  Sydney Paige backpacks have a padded back and ergonomic shoulder straps.
Say "no" to the one size fits all backpacks, they might seem inexpensive but they are low quality and have poor ergonomics.
Sydney Paige offers backpacks in various sizes so you can pick the one that best fits your child:
If you are looking for a quality backpack that fits properly, feels great to carry, and looks stylish then look no further than Sydney Paige.
Over Thirty Mommy's Thoughts
Last year we made the mistake of getting a cheap character backpack (left), it was way to big for my little first grader.  It was uncomfortable and broke within the first couple months.  After a second one, we bought a nicer quality backpack (center) but it was still too big for her small frame.  This year we wised up and went in search of a backpack designed for a child her age (right).  See how well the Sydney Paige pink camo Valencia backpack fits, not too wide across the back.  It sits across her shoulders and does not sag, thus reducing strain on her back muscles.   I love how well it fits, she loves all the accessory holders and pockets.